SSTR - All Experiences - Demo
A downloadable game for Windows
This Experience is an excerpt of the full SSTR game.
SSTR is a single player escape-room style puzzle game set aboard Horizon. A colony ship adrift in the darkness of space, under the watchful eye of Sister. Awaken into madness and explore the horrors of Horizon's past.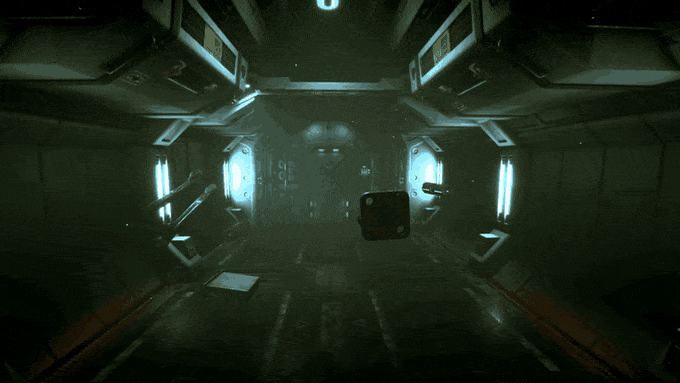 This is a combined file containing all released experiences all under one installer. No need for multiple downloads. We will be updating this download with each release; as an easier download for those who have missed out on the previously released experiences.

Each experience can be downloaded separately below:

Full game available on STEAM.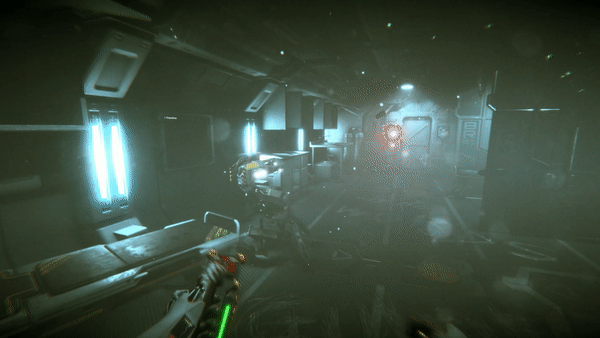 First Experience: https://dabsterent.itch.io/sstr-first-experience
Second Experience: https://dabsterent.itch.io/sstr-second-experience
Third Experience: https://dabsterent.itch.io/sstr-third-experience
Fourth Experience: https://dabsterent.itch.io/sstr-fourth-experience
Fifth Experience: https://dabsterent.itch.io/sstr-fifth-experience
Sixth Experience: https://dabsterent.itch.io/sstr-sixth-experience
Comments
Log in with itch.io to leave a comment.
We finally have a release date, Feb 23, 2021.
Is the game finished and needs no more updates?
We are working on it, probably another month or 2.
Make sure you wish list us on steam for release notification.
SSTR interview with Loren and Mike.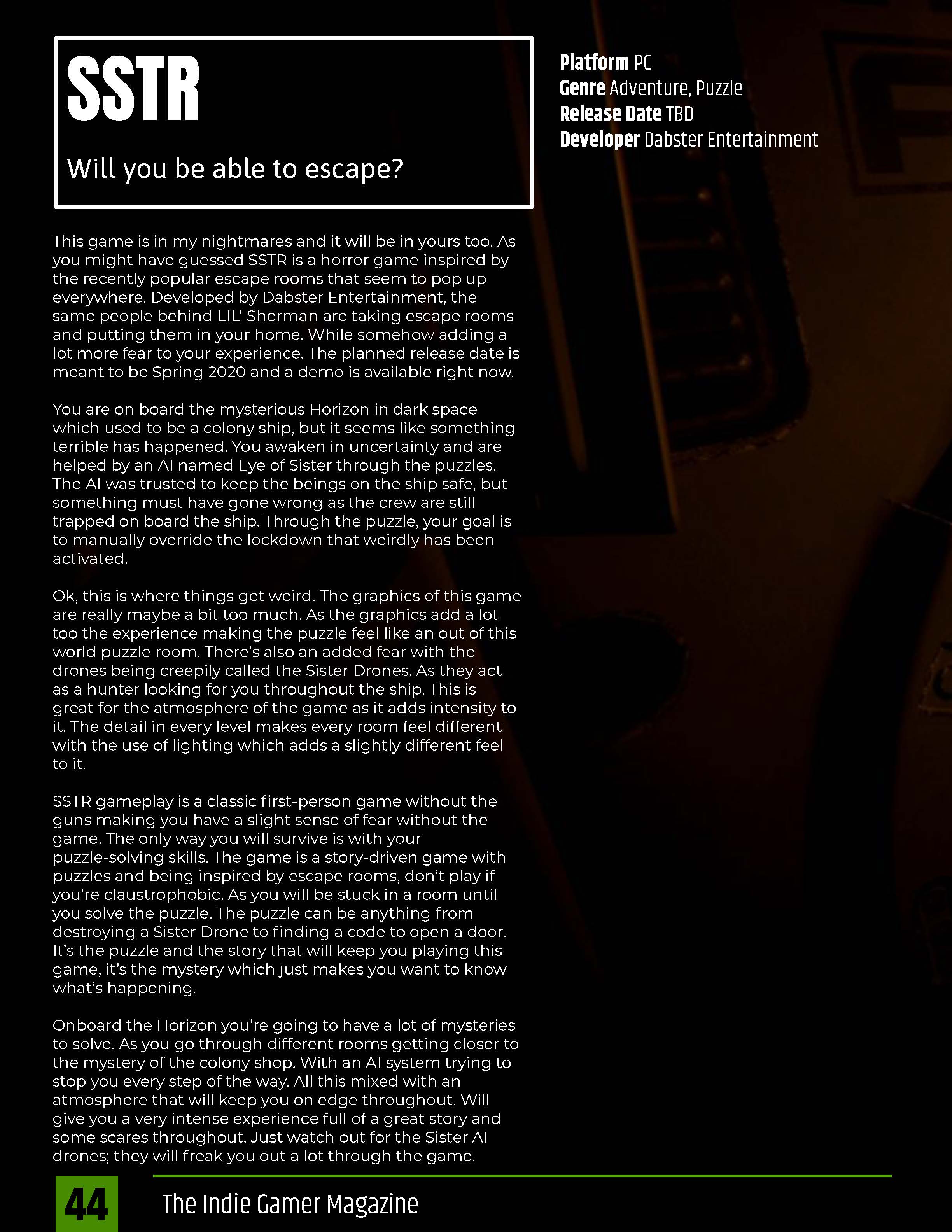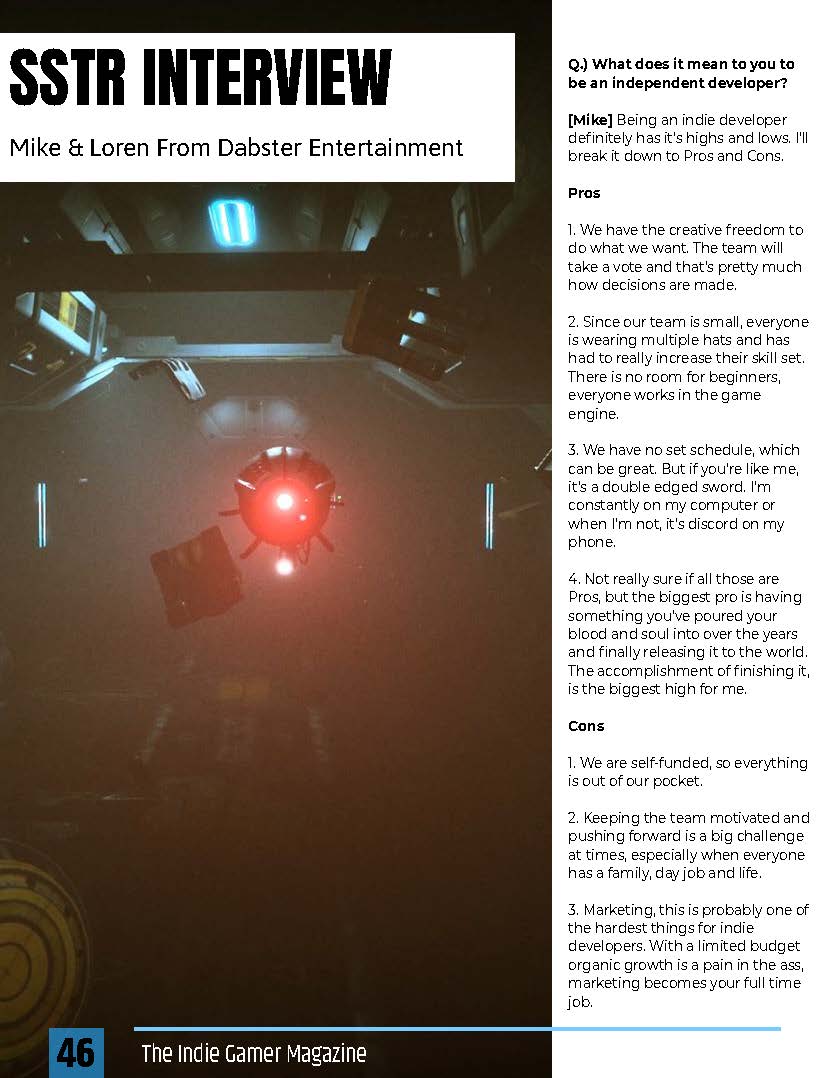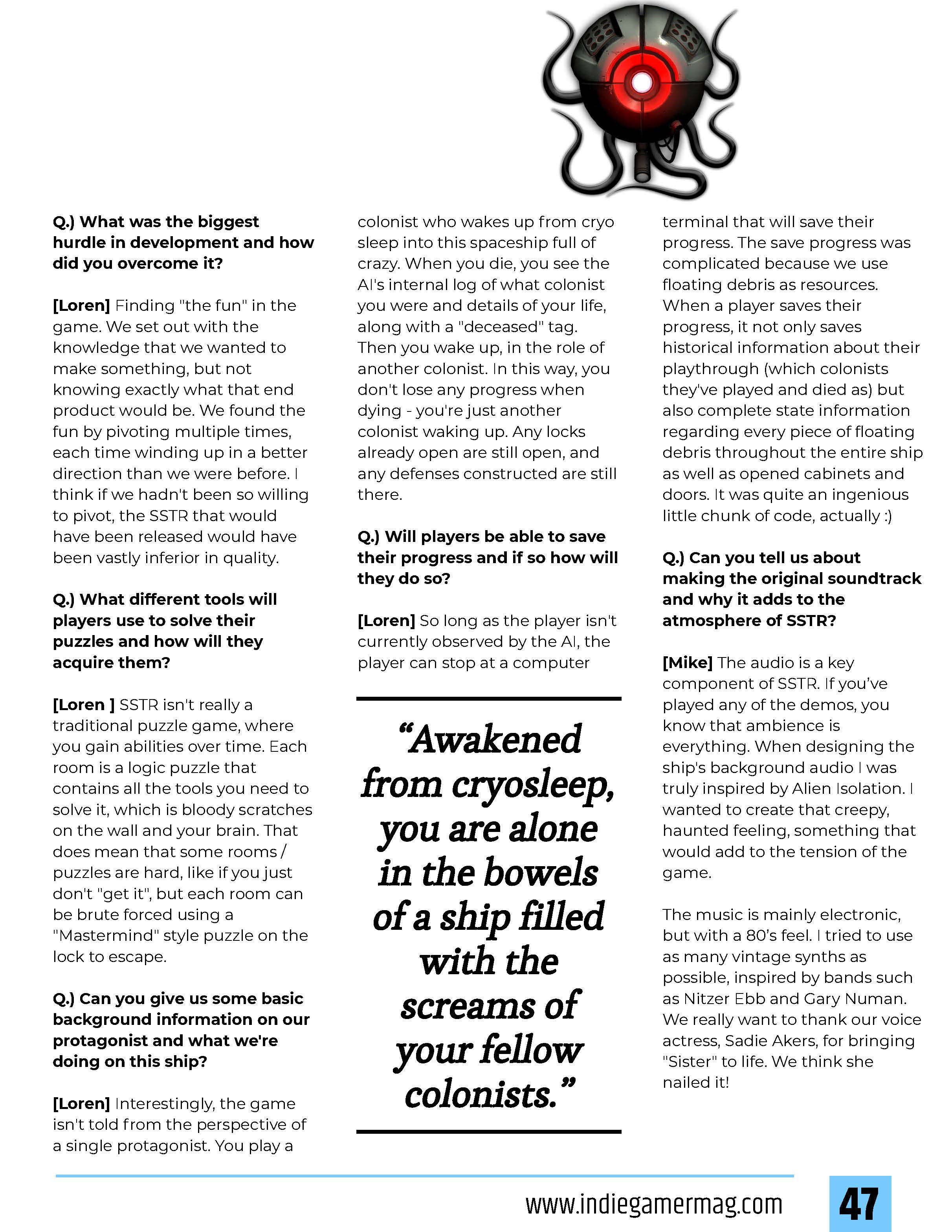 SSTR is coming to Kickstarter, follow our page and get notified when we go live.
I had a great time and im glad i could figure out the puzzles. Great job!
Quite enjoyed it! So glad I could figure out where the hints were hidden in the end!
Sadly this game is unplayable...
I have a low end PC and I'm having 1FPS MAX
Can you please add Graphics settings?
Like Low, very low, or even customizable?
I will be working on adding a low end graphics setting, unfortunately there is only 1 guy doing all the art, modeling, post prepossessing, lighting, and everything graphic related and i just haven't had time to make graphics options.

But it is on my todo list!
Hi!
Ok I like this game. Maybe it could have more stuff to interact with and more story. But I still liked it. Not gonna lie, but it was hard to find any hints to solve these two puzzles. Maybe I am just blind AF. But yeah I liked the graphics and I hope that this game will become something bigger in the future. Let me know when you will make another game :)
btw
Hey Slawek.

Thanks for the video! Really glad you enjoyed it.
The main game will have a lot more story.
Currently, we are only releasing these short experiences to test different mechanics and gain feedback.

The Third Experience is coming in a couple of weeks and will focus less on the puzzles and more on another mechanic we haven't really shown off much.

Thanks again!

Really Nice game here is the quick review of this game :)
Thanks for playing!
If you upload the second experience, do let us know.

If you have any feedback, do let us know by joining our Discord:
SSTR Discord server

Really glad you had a good time in SSTR!
Anything in particular that you liked?
Yeah the graphics are amazing and the game is also polished.....Overall everything seems great. I didn't tried other levels so far!
Give them a shot and let us know what you think.
The third one that is coming out in a few weeks will focus less on the puzzles but I am sure you will love it as well :D